STEPS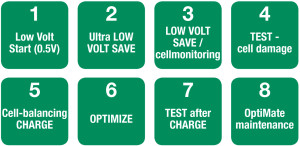 Unique LiFePO4 battery protection!
The OptiMate Lithium 0.8A 4S charges LiFePO4 / LFP (Lithium Iron Phosphate) 4-series batteries with nominal voltage of 12.8V – 13.2V.

Special features:
Saves low voltage LiFePO4 batteries
Specialized LiFePO4 charge cycle
Maintains & protects LiFePO4 batteries
Battery BMS reset.
CHARGING AMPS : 8A
USE : Indoor / Outdoor (lowest temperature: -4°F / -20°C).
SAVE : Low Volt Start of 0.5V + 3 step low volt save & test.
IDEAL FOR :LiFePO4 (LFP) 4 series cell 12.8 / 13.2V batteries from 2 – 30Ah.
INPUT : Global (100-240V 50-60Hz), high efficiency (CEC listed), fully sealed.
STYLE : Weatherproof case with wall mounts, with 6ft / 180cm AC supply lead and 6ft / 180cm charge lead ending in SAE connector. Weatherproof battery lead& standard battery clip set
SAFE: No risk of overcharging. Totally safe for vehicle electronics. Sparks suppressed. Safe for long-term battery maintenance. Automatic shut-down if short-circuited or battery disconnected. 3-year limited replacement warranty.
While there isn't a law requiring ecommerce stores to have a Return Policy, you may need one if you wish to enforce your terms and parameters of returns and refunds.

For example, in the state of New York, if a retailer does not provide a Return & Refund Policy, the retailer will be required to accept returns and give refunds for all merchandise returned within 30 days of purchase. If you wish to limit this in any way, you will need to create and post a Return Policy with your own custom terms.

Another reason for having a Return Policy even if not required by law is that most consumers prefer to shop at retailers with a clearly-posted Return Policy. This is especially important when shopping online, as more issues are likely when purchasing something without being able to see it in person first.

If you don't have a Return Policy, you may be at the mercy of state laws regulating return and refund timeframes. You may also lose potential customers who are concerned about not being able to return a product if they need or want to.
100% Money Back
Guarantee